MUSIC IS OUR LANGUAGE, FILM IS OUR VISION, AURO-3D IS OUR FUTURE
Galaxy Studios
The GALAXY STUDIOS GROUP is a cluster of companies dedicated to the fine arts of film, music and sound technology. We are situated in Belgium and for more than thirty-five years our studio complex has been a world class beacon of advanced technology for sound recording and film post-production.
Seven years ago we expanded the services to include a wide range of film and TV post-production services in sound, picture and music. Our studios originated the ultimate immersive sound format Auro-3D. It is the home base for Auro Technologies its driving force software development company.
Our expansive and comfortable Galaxy Studios is truly an exciting work and meeting centre for creative film & music professionals. We are unashamedly passionate technology addicts, proud to be creatively driven by the 7th Art.
Mollywood
Mollywood is the Financing and Tax Sheltering company in the Galaxy Studios Group. The company helps film productions and performing arts with fund raising through the flourishing Belgian tax incentives for film and theatre productions. Mollywood was founded in 2009 and raised co-investment for over 100 local and international films. We have been involved in a number of commercially successful European feature films, but we also have a heart for 'arthouse' projects. We are happy to see our projects selected by numerous film festivals all over the world.
The tax shelter system is a fiscal arrangement that encourages Belgian companies to invest in audio- visual and stage projects. The investment is for 356% deductible of their taxable reserved profit.
Mollywood has developed a unique and secure system, with an optimal investment result. The investment has a positive effect on the cash flow and in times of historically low interest rates, tax shelter results in a good financial return.
Zilvermeer Productions
Zilvermeer Productions is the Galaxy Studios Group production house and develops, produces and co-produces film and TV projects. It is the latest brand of the group and launches this spring its first productions.
Zilvermeer acts as a Pan European co-producer and continues to develop its position as a quality Benelux production house with a slate of Dutch/ Belgian co-productions with a potential for international release. Current co-productions include Knielen Op een Bed Van Violen, directed by Ben Sombogaart (NL Films), Trollie, directed by Gert Embrechts (Johan Nijenhuis & Co B.V.) and You Really Got Me, directed by Julien Temple (Recorded Picture Company).
Auro Technologies
Auro Technologies was formed in 2010 to develop and promote Auro-3D®, an immersive 3D audio technology that was developed at Galaxy Studios in 2005. In 2011 a partnership was struck with the Belgian display hardware manufacturer Barco to incorporate Auro-3D® in their digital cinema setup. Renowned studios such as Lucasfilm and Dreamworks immediately embraced the format when the first installations of the Auro 11.1 format were deployed. Now the major part of the leading studios worldwide are releasing movies in the Auro-3D® sound format. There is a huge growing interest in the Indian market for the technology.
Recently Auro Technologies has made substantial alliances with partners in other markets. Auro-3D® has been integrated in several brands of home AV receivers (a.o. Datasat and Steinway), and Audiokinetic will implement the Auro-3D® Tools into their game audio middleware Wwise®.
1980 - First Studio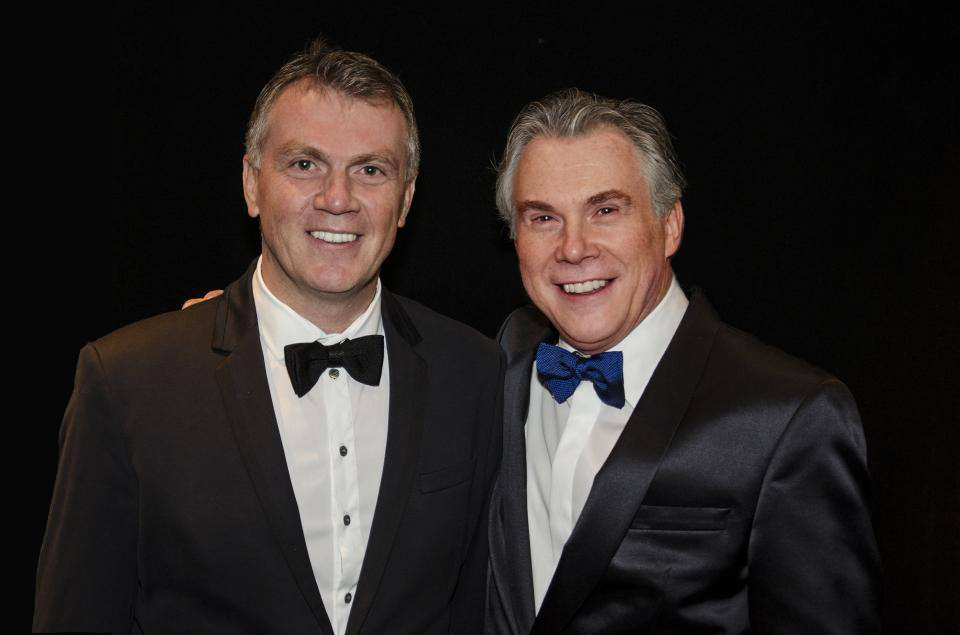 We were still teenagers, aged 18 (Wilfried) and 15 (Guy) , when we started to build our first studio in 1980. The official founding of the company was two years later, called "Studio Galaxy" which became one of Belgium's most popular studios end 80″s. Some productions required to record live orchestras, but the studio was way too small for that.
I (quote Wilfried) had to travel to the United Kingdom to record a full orchestra. I liked recording there, but also experienced a lot of drawbacks, with compatibility issues such as background noise from the air-conditioning systems, bad acoustics in the recording area and control room, as well as crosstalk from one studio to another… Moreover, high rates for studio time and accommodation in London drove costs up and up. All studios were more or less focused on specific music genres. So while I was working part-time at home and part-time in London, a dream was born…
1991 - Designing The New Studio
Somewhere in the future we saw a big studio emerge. That studio had to be a perfect and compatible for all genres of music. With 10 years of experience, we started to design a big complex in 1991.
The most important question was: what makes a studio perfect? The studio would have to be the world's most advanced acoustical environment. This implied a requirement of a one-hundred-percent sound insulation between adjacent rooms, with an absolutely silent air-conditioning system.
In the rooms, we wanted the world's best consoles (analogue and digital), the best recorders, an unlimited amount of tracks, the best microphones, synthesizers, a grand piano, Hammond organ, and surround-sound in every room. There would be a need for different studios, and they wanted to create home-like comfort and privacy, a bar and a lounge for every studio and 24-hour maintenance.
But before we saw our dream come true, we had a long way to go. Who was able to build such a complex in the first place? One of the biggest challenges was to create the perfect acoustical environment. The most reputed designers were contacted. But we always got the same disappointing answer: we cannot build Utopia. David Hawkins from Eastlake Studio gave us a spark of hope by saying that industrial building techniques might hold the solution for a number of very specific technical problems we had to deal with.
So, we started to look for highly-qualified industrial builders. This is how we met with Eric Desart of the Gerber Group and later on Gerrit Vermeir, professor at the Universty of Leuven, already renowned authorities in their fields of expertise. They explained our wishes were far beyond anything that had been achieved until then. Nevertheless we believed it was worth trying. They developed industrial solutions to achieve the unheard insulation value of plus 100 dB between 2 rooms, with a visual connection and a distance between the units not exceeding more than 60 cm.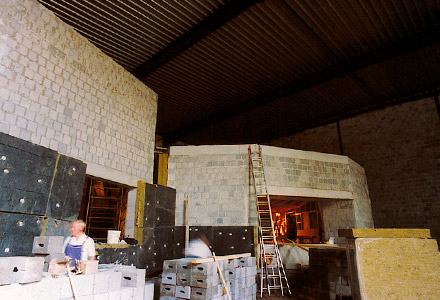 By using insulated bunkers for studios, and thus excluding external noise, they could achieve a much higher level of internal acoustic control. Moreover, cross-talk between different studio rooms could be completely avoided. The biggest problem was to insulate the lowest frequencies. To insulate frequencies as low as 20 or 30Hz, Vermeir and Desart calculated that the insulation capacity had to start a few octaves lower! This meant that it was necessary to find a way to start the insulating from less than 3Hz. Therefore, they decided to put concrete bunkers on special designed metal springs, to bring the resonance frequency for each room to less than 3Hz. The measured result (1994) is still a world record… 100,7 dB between each room with visual connection and a gap between the walls not more than 60 cm.
They calculated the ideal shape of the springs and the required thickness of the windows. They finally concluded that the windows needed to be made of 11cm thick, 1000kg heavy glass panels. Such panels had never been produced in Europe before. In addition, they needed doors that would insulate 55dB, so at least 3 doors are in between every unit. Finally an inaudible air-conditioning system was required. They developed the most silent air-conditioning system ever made. It is such a silent system that it cannot be detected or measured by music-recording microphones.
The Galaxy Hall (330 m2 with a height of 8 meters) is now known for its outstanding acoustical qualities, being as well the most silent recording space of that size on the planet : 14 dBA background noise.
1992 - 1995 Building The New Complex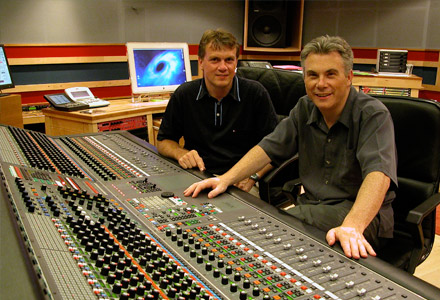 In 1992, as the building project manager of this unique complex, I (quote Guy), started up the construction of the complex, supported by a specialized team of construction workers and carpenters, finally working a staggering 185.000 man hours to complete Phase 1 of the building process. Three studios with a Neve VRP 72 and Neve Capricorn Consoles, a large hall and luxurious lodging facilities, were opened.
Meanwhile, Phase 2 (1996) was started to construct the a 5.1 surround studio with the first SSL 9080J in history provided with an eight-track monitor panel, since the DVD format, and thus surround 5.1 sound, were ready to conquer the music business. Top sound-engineers were starting to discover the extraordinary sound of this new medium and the emotional effect it could evoke. Thanks to its interactive possibilities, Galaxy Studios offered surround recording for pop and rock bands, as well as for classical chamber music, jazz or large orchestras.
A fourth programming studio, with an Amek Angela Console, and a fifth small studio with a vocal booth, were added. A private lounge and a producer's suite were also added to the complex.
Phase 3 (Mastering Studio and Film Dubbing Room) was finished in 1999.
After a 7-years building process and in total 318.000 manhours of work, our dream finally became reality. Galaxy Studios was ready to share its extensive equipment and comfortable accommodation, at very attractive rates, with every engineer or producer who would like to enjoy the ultimate experience of creating a technically high-level product of unequalled quality.
2012 - 2013 Building, Again...!
We hope to continue our life's work and dream, as we are expanding again in 2012…so we hope to see you in a new Galaxy, soon!
To be continued…