Location
Galaxy Studios NV
Kievitstraat 42, 2400 Mol
Belgium
VAT BE 423 224 460
phone: +32 (0) 14 31 43 43
e-mail: info@galaxystudios.com
Client Relations & Frontdesk Coordinator
Charlotte Van der Heijden
charlotte@galaxystudios.com
Nearest airports:
Brussels International, Zaventem (BE)
Antwerp City (BE)
Amsterdam Schiphol (NL)
Eindhoven (NL)
Düsseldorf (DE)
Train
Brussels Central
Eurostar (Brussels Midi)
Accommodation onsite
Brasserie Galaxy
Drinks & fine traditional Belgian cuisine
BRASSERIE GALAXIE offers a gastronomic trip throughout Belgium.
We serve a daily fresh special of the day for lunch and a limited but carefully selected 'a la carte' menu and sandwiches. Our typical local café holds a wide variety of the world famous Belgian Beers plus a fine selection of wines & liquors.
Breakfast: 08:00 – 10:00 am continental breakfast
Lunch: 12 noon – 12:45 pm
Dinner: 6:30 – 7:30 pm
Hotel Galaxy Stars
Under Construction, 8 x  4-star hotel suite on site (totalling 16 beds)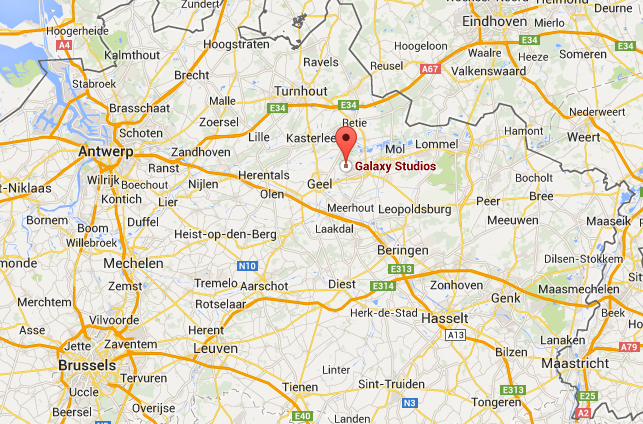 Galaxy Studios map
Accommodation outside
Hotel Corbie ***  €104,00
Corbiestraat 64, 2440 Geel
www.corbie.be
(10 min drive from studios)
Hotel Verlooy **** €121.50 – €160,00
Pas 117, 2440 Geel
www.hotelverlooy.be
(10 min drive from studios)
Hotel Roosendaelhof ****  €100,00 – €130,00
Stationstraat 50, 2440 Geel
www.roosendaelhof.be
(10 min drive from studios)
B&B 'T SPIJKER €65,00 – €75,00
Volmolenheide 57, B-2400 Mol
www.tspijker.be
(8 min drive from studios)
B&B Molmento €75,00
Sint-Leonardusstraat 12, 2400 Mol
www.molmento.be
(10 min drive from studios)
B&B De Grote Kievit €95,00 – €125,00
Grotekievit 2, 2440 Geel
www.degrotekievit.be
(11 min drive from studios)